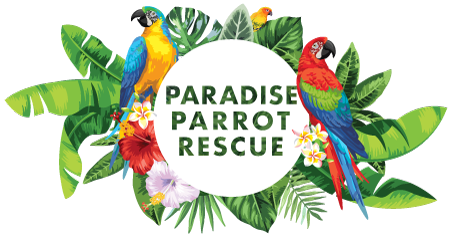 Paradise Parrot Rescue was created from the unfulfilled need in the Tucson community to provide for some of the most amazing and loving animals on the planet. Certain species of parrot can live past 70 years with proper diet and care and for this reason, they often will have over 12 homes on average during their life. This transition can be very hard for a parrot as they often love their owners and create a very special bond with them. Breaking this bond can be heartbreaking for all parties involved, but especially on the bird. Often, parrots will pluck out their own feathers or resort to other negative behaviors such as biting or screaming when dealing with these stressful events. Paradise Parrot Rescue recognizes this and stand in the gap by providing a healthy transition for these birds and ultimately finding them a wonderful and suitable home. We screen all of our adoptive homes, provide education on how to property care for a parrot, and we match up each bird with the best candidate for ownership based upon the birds personality and desires. We believe that each bird should have its BEST LIFE, whether that is with us at the rescue, or placed in an adoptive home.
Paradise Parrot Rescue was created and is run by Bryan Klontz. While Bryan has been an animal lover his entire life, and while he has owned many parrots for a number of years, he was finally able to officially begin this Non-profit in 2020. The rescue is situated on 4 acres in the Tucson mountain foothills, with lots of uninhabited land surrounding the site, so there is plenty of room for parrots to be parrots.
At Paradise Parrot Rescue, we are making a difference in the lives and well-being of these amazing creatures, but we NEED YOUR HELP! We rely on donors to fund this endeavor and every bit makes a difference. We invite you to be a donor, or come volunteer at the rescue, or simply spread the word about what we are doing here in the community.