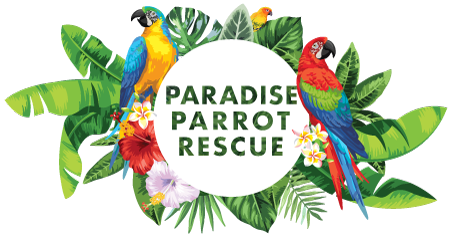 We KNOW that it can be a difficult decision to surrender your parrot. These amazing creatures can find a special place in our hearts and choosing to give them up can be gut wrenching. But, we here at Paradise Parrot Rescue know that the most important thing we can do for our birds is to give them their BEST LIFE, even if that means finding another home for them. We want you to be fully informed about the surrender process so that you feel comfortable every step of the way.
The Steps to Surrender your bird…
First, the best thing to do is to call us at 520-288-6310 and speak with Bryan, the Rescue Director and go over the situation. Secondly, we ask that you fill out a surrender form and submit this to us for review. We cannot take on every single bird, so we need to make sure this is a good fit for us and for you as well. Please be as detailed as you can so we can make the best decision possible. Finally, if the surrender is approved, we will move forward to plan the transition to Paradise Parrot Rescue. We recommend that you bring the bird to the rescue, as well as any other items that the bird is used to such as the cage and toys… In some cases, we may be able to come to you. We do have a truck and trailer so it is possible for us to travel where necessary.
What happens to your Parrot after arriving here at the Rescue?
First, we provide a very welcoming and safe place for the birds where they can start the transition process. There is plenty of room, food, toys and a nice enclosure for them to call their own. We determine if vet care is required and seek this out immediately if necessary. We like to get to know the birds a bit before deciding what is best for them so they may be here for a few days or even weeks or months before we make a final decision.
We want to be very clear about our mission…. We are here to provide the BEST life possible for the parrots we are so privileged to come in contact with. In many cases, this means finding a new family to adopt our birds where they can find love and attention and happiness again. If this is the course of action we deem to be the BEST life for the bird, then we start the process of screening applicants for adoption. We are very thorough in this regard. We require all applicants to fill out an adoption application which you can see on this site. This application helps us sift through candidates to find the best placement for these amazing animals. We require references, which we contact…. We require all applicants to spend time here at the rescue for our team to observe the interaction with our birds… in some cases we do in-home assessments…. And we must approve the cage/enclosure before any of our birds are adopted.
Why is there an adoption fee…
We DO assign an adoption fee when we decide to adopt a parrot here at Paradise Parrot Rescue. This fee varies with each bird based on many factors. There are several reasons we have decided to require adoption fees.
1. Requiring an adoption fee weeds out those predators who we like to call Bird-flippers. If you can get the bird for free or a small nominal fee, then there is a potential loop-hole for malicious people to try and get through our screening process only to sell the bird on craigslist later. This is NOT in the best interest of our birds.
2. Requiring an adoption fee shows the serious commitment of our adoption families. If you pay for something, you will treat it better studies show….
3. Requiring an adoption fee shows that our adoptive families have the necessary resources to properly care for our birds….. Proper parrot care is not cheap…. Food, toys, enclosures, exotic vet visits…. It all is costly and we need to know our families have the means to properly provide for these amazing creatures.
4. The funds we collect for the adoption fees HELP us at Paradise Parrot Rescue to keep our doors open. We are a non-profit 501 (c) (3) and these funds go directly to food, toys, enclosures, utilities, facilities, vet visits, and more. It is how we continue to do what we do.
Our commitment to you…
We LOVE these amazing and beautiful creatures. We will do everything we can to provide the best life for all of our parrots. We will love them, care for them, provide for them and help as many as we can. Your parrot is in GREAT hands with us. Come visit us to see for yourself. Please partner with us financially to help us do more of this amazing work. Please pray for us. Thank you for making a difficult choice to help your parrot find its BEST LIFE!!!!